There are many strategies to trade gold in forex, but it is only the 10 best strategies I will reveal in this article. But before then, what is forex trading strategy and gold trading in forex? Read on:
Looking for a new auto loan? Apply online at myAutoloan.com and get one today!
Forex Trading Strategy Meaning
Strategy means technique. Then, the forex trading strategy is the technique or systematic methodology adopted by each forex trader in buying and selling currency pairs in the securities markets.
It is based on predefined rules and criteria used in the trading analysis.
Definition of Gold Trading in Forex
Gold is a heavy, yellow, inert, metallic chemical element that is highly ductile and malleable. It is a precious metal used to manufacture coins, jewelry, alloys, etc.
Gold has historically been seen as a store of a value accurately because it is not subject to the impulse of governments and central banks as currencies are.
Gold prices are not influenced directly by either fiscal policy or monetary policy. Still, they will always be worth something – unlike a currency that can end up being almost worthless because, for instance, of uncontrolled inflation.
However, gold trading in forex is the act of speculating on the price of gold markets to earn profit. It is usually done through futures, options, shares and exchange-traded funds (E.F.T.s), and spot prices.
Gold forex trading helps a trader to gain exposure to gold through forex markets. Alternatively, by buying and selling the precious metal or speculating on its price using futures, one can trade it as a dollar-denominated currency pair or through gold-linked teams.
Historically, gold was used as a currency, and it is not surprising that it is still an internationally recognized part of the forex market. It trades under the currency code X.A.U.
Several reasons a trader might want to enter the gold markets are pure speculation, including wishing to purchase and take ownership of the physical gold or hedge against insecurity.
Trading gold in the forex market is an excellent way for currency traders to get exposure to the commodity and extend their portfolios. Compared to other assets during global crises, its steadiness is a popular hedge against inflation.
How to Master Gold Trade
How one can master gold trading is an essential consideration before going into gold markets, and it is not hard and requires your time and energy in the business.
Below are the tips to consider in gold trading to master it.
Learn what gold investing and trading are:

This is the first step to mastering gold trading. Gold investing and trading are two distinct ways to take a position on the future change in the price of gold markets.
Investing in gold means taking ownership of the upfront asset and profit if the price of the precious metal rises. Whereas trading gold is taking a position on the underlying price rising or falling – taking ownership of the asset itself is not involved.
So, understanding these two different ways first helps you in mastering gold trading.
Geopolitical Connections on Currencies:

Considering the geopolitical connections on currencies enables one to trade gold effectively. However, when political or economic instability creates concerns about currency prices, gold can be a secure haven that protects liquid assets.

Track the Market Demand for Gold:

Identifying the market's needs for gold helps one discern when to go into it and profit from it.

Analyzing Previous Highs and Lows:

For a trader to master gold trading, he must examine the previous highs and lows of gold trade in the market.

Keep Track of the Real Interest Rates:

Knowing the actual cost of gold in the forex market enables a trader to be an expert in trading gold and helps avoid excessive loss.

Pay Attention to Changes in Gold Production:

Being sensitive to the happenings in the forex market turns a beginner gold trader into a seasoned gold trader.

Take Advice from the Experts:

The essential way to becoming an expert in gold trading is to follow the guidance of experts in the field. Follow the instructions given and become an expert too.

Gold Chart:

Gold chart determines the increment and diminution in the price of gold in the market. Thus, using it is another trusted way to master gold trading in the forex market.

Season of Trade:

This is all about

when and where

. Knowing when to trade gold and where the demand is high creates an opportunity to master gold trading.

Create your Gold Trading Account:

Creating a gold trading account and trading consistently is another way to achieve the goal.

Interpret What Moves the Price of Gold:

The price of gold is determined by supply and demand. Hence, understanding what exactly moves the price of gold in the markets helps you become an expert.
The Best Moving Average for Gold Trading
To trade gold in the forex market, a trader has to consider the best moving average specifically for that.
However, a moving average (M.A.), also called rolling average or running average or rolling mean, is the average of the closing price of a security for a specific period.
It deals successfully with short-term price fluctuations, giving an incredible view of the trend.
The 50-day and 200-day moving averages are the best and quite often used as support and resistance levels for gold.
Note: The most commonly used moving averages are: the 20-day moving average (because a month contains approximately 20 trading days), 50-day moving average (roughly 3 months), and 200-day moving average (often used by long-term traders). It is worth customizing moving averages for specific markets or even individual securities.
Recommended
Top 10 Best Forex Trading Mentors in Australia 2022
Top Best Forex Day Trading Strategies to Adopt
7 Proven Profitable Forex Trading Strategies for Consistent Profit
What Moving Average is used for:
Trend

: Moving average is used to determine the price of a security in a downtrend below its moving average while the price of a security in an uptrend is above.

Support and Resistance Levels:

It is equally used to decide if the price will cross the moving average.
When the short-term moving average marks above the long-term moving average, this move is called a dead cross and is considered bearish.
Meanwhile, when the short-term moving average crosses from underneath the long-term moving average, this move is called the golden cross and is considered bullish.
The chart below displays the price of gold with a 50-day moving average. A period of 50 days is minimal to determine long-term trends – M.A. concurs with the price of gold.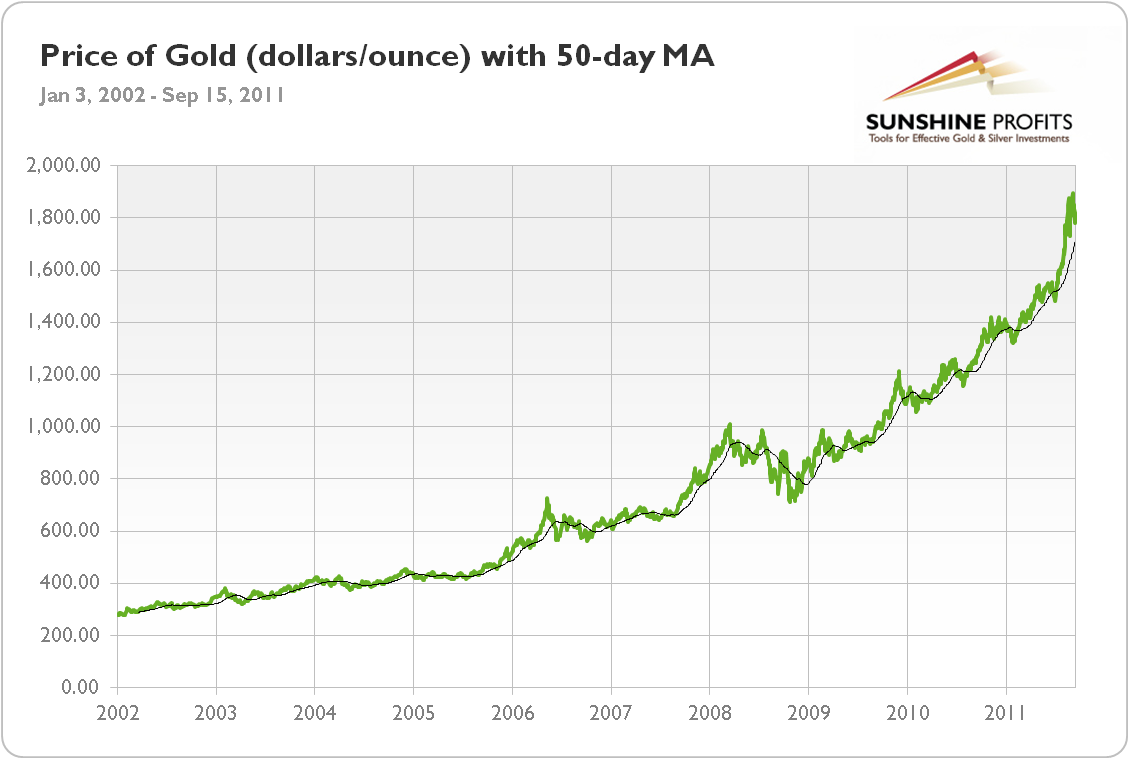 Moving Average is divided into three (3). They are as follows:
1. Simple Moving Average
In a simple moving average (S.M.A.), each price is given equal weight.
To calculate the simple 3-day moving average, for example, we can use the following equation:
SMA = (p yesterday + p 2 days ago + p 3 days ago)/3.
2. Weighted Moving Average
A weighted moving average (W.M.A.) gives different weights to data at distinct positions. W.M.A. used in technical analysis gives weights that decrease in arithmetic progression. Thus in the case of an n-day W.M.A., the latest day has weight n, the second latest has weight n-1, and so on.
3. Exponential Moving Average
The E.M.A. gives the most significant weight to recent prices and exponentially smaller weight to older prices.
The equation below is used in calculating E.M.A.:
EMA = α x (p1 + (1 – α)p2 + (1 – α)2p3 + (1 – α)3p4 + … )
where
α – represents the degree of weight decrease.
p – represents the prices of some security.
The Best Chart for Gold Trade
A chart for gold trade is the diagram or graph used by traders to determine the trend of the gold market.
Below are the three (3) best charts for gold trade:
1. The Barrick Gold Corporation (GOLD)
It is one of the best charts to trade gold. Below it goes:
2. The SPDR Gold Shares (G.L.D.)
This chart indicates the well-known exchange-traded product active traders use to gain exposure to physical gold.
Below is the chart.
Active traders use the step-like pattern to demonstrate that beneath fundamentals are moving and that the bulls are beginning to increase their conviction on buying into pullbacks.
3. The VanEck Vectors Gold Miners ETF (G.D.X.)
The Vaneck Vectors Gold Miners ETF (G.D.X.) is used by the companies that mine and refine metals. Below is the chart.
The Best Time of Day to Sell Gold
A gold trader ought to consider the best time of the day to sell gold; this can be done via understanding when the gold price moves on average.
According to research, gold prices are likely to move on average between noon and 8 pm London time, which correlates to the hours when markets are open in eastern and central U.S.A.
Therefore, it is best to sell gold from noon to 8 pm London time as gold markets are open within the period.
Lists of The 10 Best Strategies to Trade Gold in Forex
Choosing the best strategies to trade gold in forex depends on the trader. But, I am highlighting the general best strategies traders can use in the gold markets.
They are as follows:
1. Trend Trading Strategy
Trend trading strategies are related to technical analysis, which identifies the trade opportunities in the direction of the trend. A trader must know when the price rises (uptrend) and declines or falls (downtrend).
Fortunately, gold is likely to be volatile, which results in solid trends constantly forming (from time to time).
2. Position Trading Strategy
Before you trade a stock, you typically consider the company-related news (the company's needs on the specific stock you are interested in). The same strategy is applied to gold trading, and you must contemplate the currencies' economic data and event relevance to the country.
3. News Trading Strategy
News trading is a strategy that focuses on gathering pieces of information from events like economic data releases and central bank meetings that may have a notable influence on the price of gold. It helps a trader to know when to enter the gold markets.
Example: Inflation data and Federal Reserve meetings.
4. Expert Advisors / Copy Trading Strategy
It means following expert advisors (EAs) and signal providers specifically built for gold trading and copying their strategies via the different copy trading apps. This strategy is appropriate for beginners and seasoned traders whose methods are not conformable to gold.
5. Day Trading Strategy
Day trading strategy is trading gold based on a particular session or time of the day when opportunities are available in the gold markets.
Unlike scalpers, who are likely to open over 10 trades per day, day traders only find good opportunities available in the market to trade.
However, gold is acceptable for day trading as it is a highly liquid trading instrument with low spreads (especially compared to other commodities). Its volatility is high on most days for trading opportunities to present themselves.
6. Price Action Trading Strategy
This strategy focuses on the price movements of gold. A trader should know the breakouts and reversals in the price of gold (and act on them instantly) before going into gold markets.
Traders can resort to various price action strategies – from breakouts to reversals to simple and advanced candlestick patterns.
7. Picking A Trading Time Strategy
Knowing the time to enter gold markets is another strategy a gold trader must adapt.
It involves trading gold during a particular time when there is more liquidity at less volatile prices.
8. Monitoring Supply and Demand Strategy
It is a systematic way of observing and analyzing the progress in the supply and demand for gold to know when to enter the gold market (knowing the source of demand for gold and supplying it at the appropriate time).
The supply and demand for gold have a higher impact on its price. Therefore, a trader should look out and know when it is high in the market.
9. Watching the Geopolitical Factors
For a forex trader to succeed in gold trading, he must watch out for the alteration in the economy and political affairs of the country where the gold trading may commence and their effect on gold.
10. Chart Reading Strategy
Studying the gold chart assists the gold trader in discerning the movements of lines in the chart and reacting to them.
In conclusion, trading gold is just like trading currency, and it helps traders to gain exposure and impart more knowledge to both beginners and experts in gold/currency markets.
Watch the video for more illustrations:
About Author
I am a writer and researcher, a practical digital marketer, and a copywriter who communicates value to a society based on years of experience and knowledge in the field.
Sharing is caring...